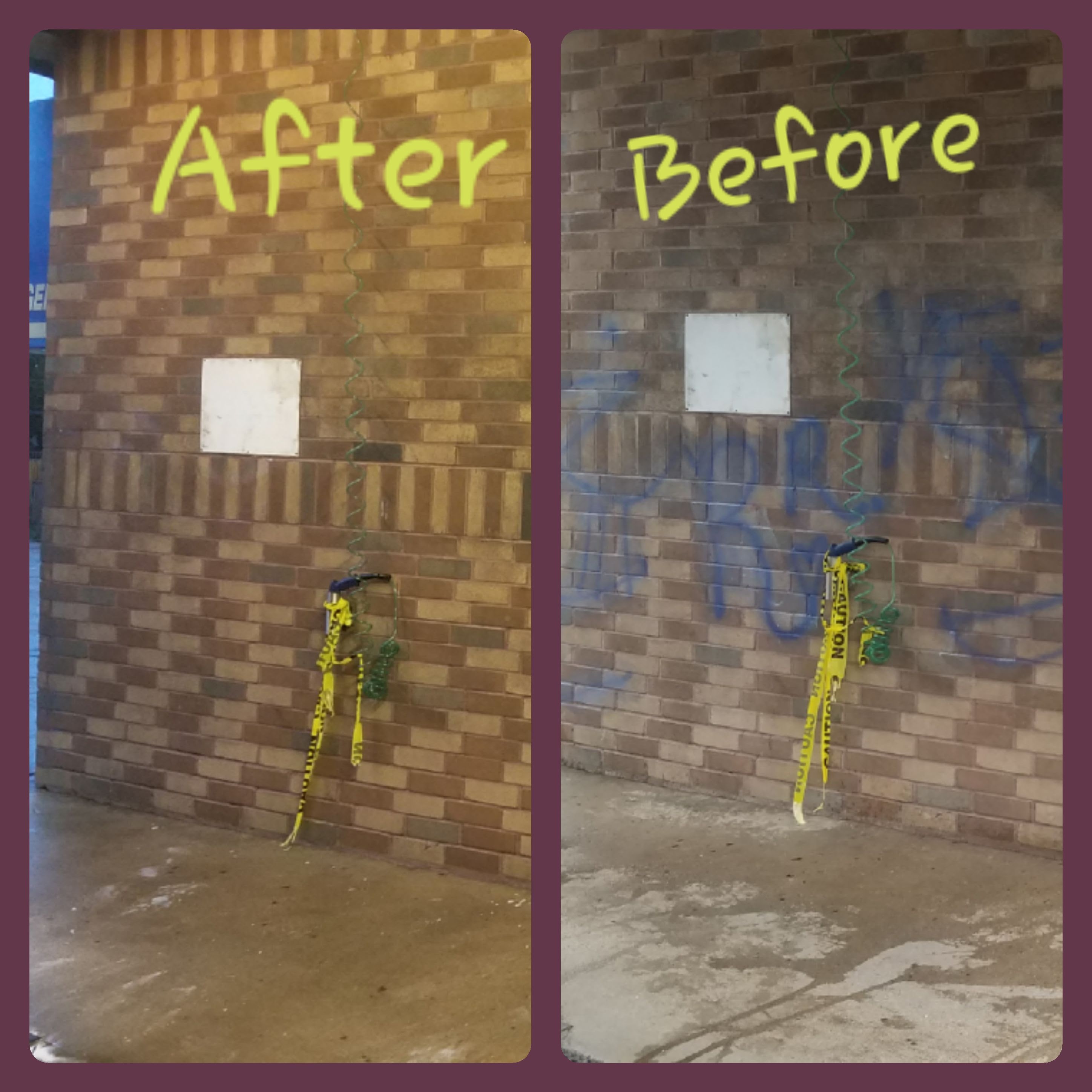 Our graffiti removal service is a comprehensive solution designed to efficiently and effectively eliminate graffiti from a wide range of surfaces while prioritizing the preservation of the underlying material's integrity. Here's a detailed explanation of our process:
**1. Inspection and Assessment:**
- Our skilled technicians begin by conducting a thorough inspection of the graffiti-affected area. We assess the type of graffiti (e.g., spray paint, marker, ink) and the surface material (e.g., brick, concrete, metal).
**2. Surface Analysis:**
- Understanding the surface is crucial. We identify any vulnerabilities, such as porous materials that may require extra care during cleaning.
**3. Customized Solution:**
- Based on our assessment, we tailor a specific graffiti removal plan. We select the most appropriate and eco-friendly cleaning agents and methods, ensuring minimal environmental impact.
**4. Safety First:**
- Our team prioritizes safety. They wear protective gear, including gloves, goggles, and masks, to ensure their well-being during the removal process.
**5. Testing:**
- Before applying any cleaning agent, we conduct a small-scale test on an inconspicuous area to determine the most effective approach without causing harm to the surface.
**6. Application of Cleaning Agents:**
- Once we've identified the optimal solution, we apply it to the graffiti using suitable tools, such as sprayers, brushes, or sponges.
**7. Dwell Time:**
- The cleaning agent is allowed to sit on the graffiti for the recommended dwell time. This helps break down and loosen the paint or ink.
**8. Gentle Scrubbing:**
- We employ gentle scrubbing techniques to remove the graffiti, taking care not to harm the underlying surface. In some cases, we may use pressure washers for efficiency.
**9. Thorough Rinsing:**
- After graffiti removal, we rinse the cleaned area thoroughly with clean water. This ensures no cleaning agent residue remains on the surface.
**10. Quality Control:**
- Our team conducts a detailed inspection to verify that the graffiti is completely removed. We strive for a spotless finish.
**11. Surface Protection:**
- As an additional service, we offer surface protection options, such as anti-graffiti coatings, to deter future vandalism and make any future removals easier.
**12. Environmental Responsibility:**
- We adhere to environmentally responsible practices by disposing of waste and cleaning agents in accordance with local regulations.
**13. Documentation:**
- We provide before-and-after photos as well as a detailed report of the graffiti removal for your records or, if needed, for insurance claims or legal purposes.
Our graffiti removal service is not just about erasing vandalism; it's about restoring the surface.
Location: Houston