Your Local Pressure Washing Professional in Houston, TX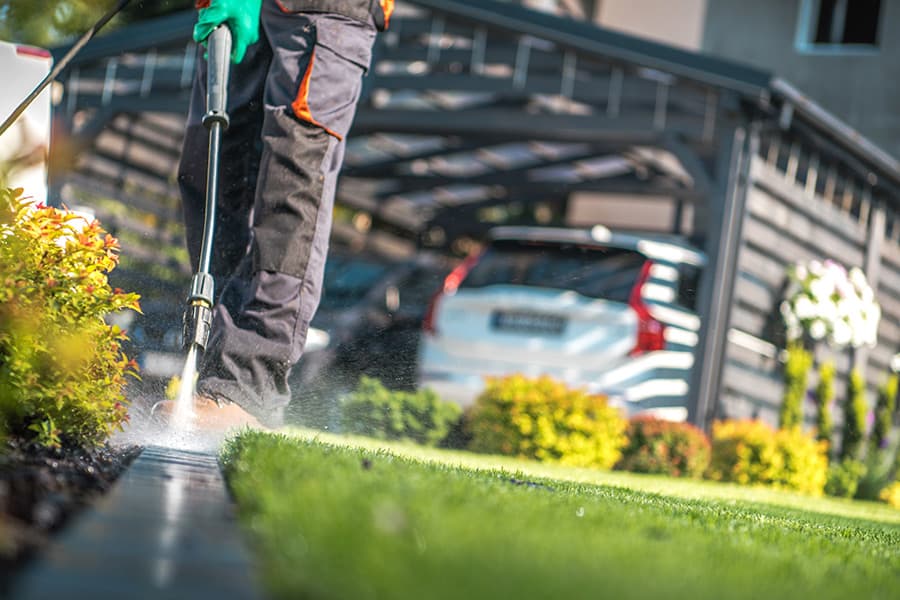 Leading the charge against the elements that mess with Texas, KT Power Washing of Houston has the power to handle all your residential and commercial pressure washing needs.
Weather, dust, grime, bird, and insect droppings - they all take a toll on your exterior surfaces and can leave your home looking tired and dingy. Whether you want to just give the homestead a nice polish before your next Texas-sized barbecue or are hosting an elegant cattleman's cotillion, a fresh pressure wash can give your home's exterior surfaces a shine you can be proud of.
The professionals at KT Power Washing offer a variety of residential pressure washing services for your Houston area home and can give new life to:
Home exteriors - brick, stone, wood, vinyl, and more!
Shutters, gutters, and awnings
Shingles and metal roofs
Sidewalks, driveways, and patios
Pavers, stone columns, and fences
Pool decks and pool enclosures
Decks, gazebos, and benches
Schedule Your Houston Pressure Washing Service
What Is Pressure Washing
Pressure washing utilizes the power of water to thoroughly clean your exterior surfaces, removing pollutants that can damage and erode your concrete, wood, and other porous surfaces. Our skilled pressure washing technicians are trained in the use of the latest environmentally friendly products and applications, and our state-of-the-art equipment with adjustable heat and pressure settings allow us to customize our pressure washing services to meet your specific needs.
Commercial pressure washingservices are also available to our Houston customers. Exterior cleaning can help you maintain a happy and healthy workplace. It appeals to your potential residents or customers and is a cost-effective way to raise the value of your property without having to fork-out for costly renovations. It can remove harmful contaminants from your porous exterior surfaces and extend their useful lifespan - which saves you money!
We offer pressure washing services for:
Apartment complexes, multi-family dwellings, and common areas
Shopping malls, strip malls, and storefronts
Office buildings
New construction developments
Parking garages, airport runways, and parking lots
Warehouses and commercial buildings
Churches, community centers, playground equipment, and parks
Signs, fences, and outbuildings
Our self-contained 500-gallon mobile unit allows easy access to projects where water access is limited or unavailable. If you need graffiti removal from a vacant property, fence washing on the back-forty, or want to give a house you have on the market a little extra bling, KT Power Washing has the equipment and the expertise to handle your commercial pressure washing project.
Extend the life of that freshly washed look with KT Power Washing's surface sealing. Surface sealing creates an invisible barrier between your exterior surface and the harsh Texas elements. Sealing makes cleanups between regular pressure washes a breeze and improves the look of your exterior surfaces. It also prohibits the growth of mold, mildew, slime, and algae - be sure to ask about our up to 5-Year No Algae Guarantee.
The pressure washing professionals at KT Power Washing are proud to serve the Houston metropolitan area. We offer monthly, quarterly, and annual service plans and will tailor our services to fit your needs. We are fully licensed and insured, including worker's compensation. Give us a call today at 832-869-0220!
Latest Projects